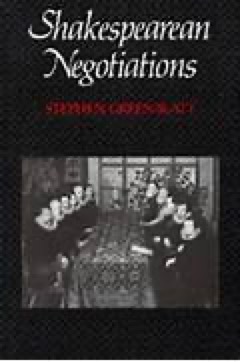 Author: Stephen Greenblatt
(University of California Press)
Shakespearean Negotiations

Stephen Greenblatt's compilation of five essays discusses aspects of Renaissance society demonstrated in Shakespeare's plays, four of which focus on a major genre. His book is a good secondary source, a mixture of literature and history. Published in 1988 by the University of California Press, this title is a reference for Elizabethan studies.

"The Circulation of Social Energy" serves as an introduction. Greenblatt defines "social energy" as the ability to arouse emotions or reactions across a broad spectrum. Other critics have used the term "universal" to describe Shakespeare's talent in communicating beyond his own time. He explains how the playwright succeeded in moving concepts from one place to another, across shifting boundaries.

Greenblatt addresses a dynamic exchange between culture and time: "Power, charisma, sexual excitement, collective dreams, wonder, desire, anxiety, religious awe, free-floating intensities of experience…"

"Invisible Bullets" discusses Shakespeare's history plays. The title refers to a reference by Native Americans to English colonists who exposed them to diseases for which they had no immunities. Since the Elizabethan audience found history and politics interesting, Shakespeare capitalized on the opportunity to present his unique mix of historical fact and engaging drama. The playwright's work is an interpretation of events found nowhere else.

Greenblatt states that his plays are concerned with the production and containment of subversion and disorder. "Elizabethan playing companies contrived to absorb, refashion, and exploit some of the fundamental energies of a political authority that was itself already committed to histrionic display and hence ripe for appropriation."

"Fiction and Friction" is an essay on sexual identity and the humorous situations in romantic comedies. In Elizabethan England, boys acted the roles of women, leading to contemporary discourse about sexuality.

According to Greenblatt, Shakespeare's comedies contain sexual energy. The playwright used this erotic power in the development of plots that would interest an audience, so the "heat" takes place internally… out of sight… in the imagination. Shakespeare found ways to present sexual friction in his dialogue and in situational tension.

In the fourth work, "Shakespeare and the Exorcists," Greenblatt provides background on the staging of exorcisms. During the Renaissance, educated people knew demonic possession was contrived, used as a tool to manipulate, or sometimes, a manifestation of mental illness. Within Shakespeare's work, especially his tragedies, exorcism was equated with fraud and illusion, often perpetrated by the church.

Revealing is the significance of exorcism in Renaissance England. Spiritual possession is an issue rarely discussed in the twenty-first century. In Shakespeare's time, the strangeness of this phenomenon puts it into the present-day category of Ripley's Believe It or Not.

"Martial Law in the Land of Cockaigne" is an unusual essay on the use of anxiety and terror and its manifestation in Elizabethan drama. "The Tempest" is a primary example. The play is filled with mysticism and superstition, instigated by imagined and real threats. These tactics, as seen in Shakespeare's work, were part of the Renaissance.

The culture and social energy of Renaissance society will never die. Not all writers were capable of keeping this life force alive, but Shakespeare succeeded.